Healey Silverstone Prototype Datenblatt Chassis-Nr.: X 2
first Reg.No. 1st July 1949: JAC 100

Reg.No.: _ _
known owners:
Donald Healey Motor Company 1949 – 1950
Roy Salvadori 1950 –
Hugo Rignold 1950
Chiltern Cars 23- 5 1955 for sale
Mervyn Dexter 1956 - ?1959 in Huddersfield.
(Friend of) Mr A J M Goode 1960's
Peter Layton -1964
P J Willingale 1964 –1965
A J M Goode 1965 -
P J Willingale 1969 -
Bill Mackie – 1969 –1983
Gavin Sandford-Morgan Australia 1983 – 2003
Richard Procter UK 2003
Exported to USA 2004
Blackhawk Museum Cal 2007
RACING and RALLYING HISTORY:
more information on RacingSportsCars
1949 July Alpine Rally driver Donald Healey and Ian Appleyard 2nd overall 1st British car
1949 August Silverstone Production Sports Car race driver Tommy Wisdom 17th overall
1950 April Targa Florio Sicily drivers T.Wisdom and A.Hulme 4th in class 16th overall

PUBLICATIONS FEATURED IN:
CAR HISTORY:
X 2 was the original Silverstone prototype made in 1949 owned by the Donald Healey motor company and competed in the events above. It then became the press car and all the motor journal reports in and photos of the Silverstone in 1949 and 1950 were done in this car.
It was bought by Roy Salvadori in 1950 from the factory.
X 2 was for sale in 1955 with Chiltern cars.
It appears to have been bought by Mervyn Dexter from a garage in Huddersfield and he remembers it still having the number plate JAC 100 on it. He owned it for about 3 years and thinks he sold it again in Huddersfield.
According to a Mr A J Goode in a Club news letter of 1965, the car was bought in late 50's or early 60's in Liverpool by a friend (? Mr Peter Layton)and towed back to his house. It was in a very bad state. It was rebuilt and mechanically brought back to a reasonable condition. It was run for a year and then sold to a new owner( ? P J Willingale) who decided to rebuild it to concours condition but it was found to be too expensive. It would appear that Mr Willingale bought E 100 and put the number plate and front wheels from X 2 onto it and this became the new JAC 100. According to other records E 100 already had the number plate JAC 100 from 1950 when the owner bought it from the factory for £5.
Mr Goode bought the remains of X 2 thinking that he would use the chassis to rebuild his wrecked Silverstone D 49. Records show he did not do this and in 1970 Mr Willingale bought X 2 back again. He appears not to have had it for long because the remains of the car appeared with Bill Mackie in 1970 and stood outside for 13 years.
It went to Australia in 1983 where it was fully restored.. The existence of X 2 during the 80's and 90's was not known and it was thought that D 1, the first production Silverstone was the car that had done the Alpine Rally in 1949 .
The owner of X2 in Australia found that the chassis was indeed stamped X 2 and other features on the body confirmed that this was the Alpine car and not D 1.
two letters should help to explain the history of X2, the first one is from Gavin Sandford-Morgan, written in 1997 for the Magazin of The Association of Healey Owners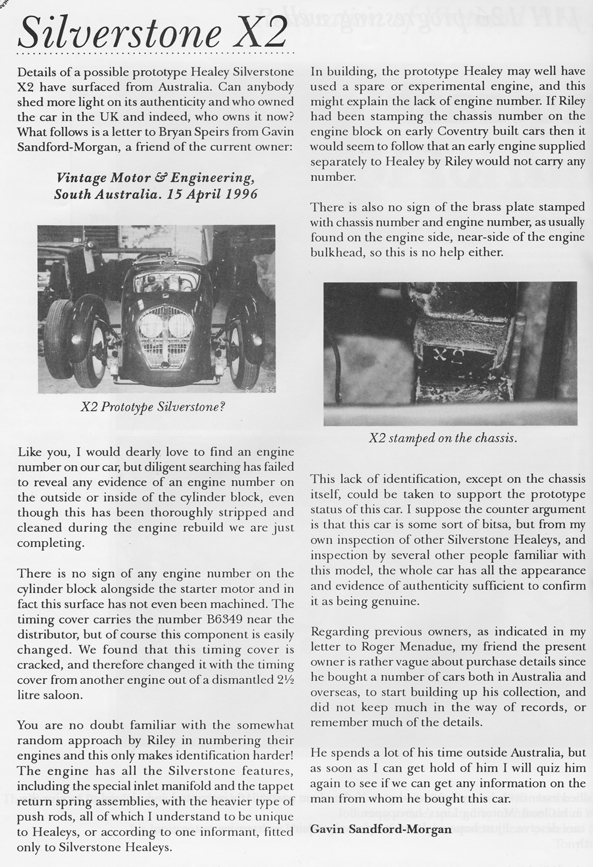 the second letter is from George Mackie, the son of Bill Mackie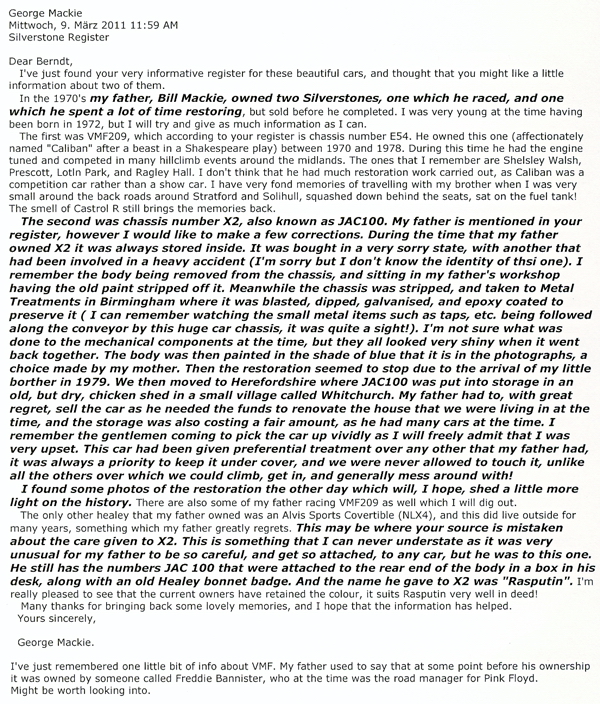 many thanks for this information,