Healey Silverstone Datenblatt Chassis-Nr.: D 19
Reg.No.: UJ 9448
known owners:
Jim Kimberley, USA 1949 - 1951
Jim Simpson, Illinois 1951 - 1956
Tony Carroll, USA 1966 - 1972
_ _ _ _ _ , Connecticut / USA seit 1972 -
ORIGINAL COLOUR:-
Red
OTHER COLOURS:-
Yellow 1952 -1959
Metallic Green in 1960's
Dark Green 1967 – 1970's
Kimberley Red 1980's-
Events
more information on RacingSportsCars
1950's Raced by several drivers, see history above.
1960's Raced by Tony Carroll in VSCCA races
1979 onwards Nat Day has raced it
1984 Lime Rock Park, Connecticut, USA
1997 Greewich Concours
2004 Chief Judges Award
Literature
HEALEY MARQUE MAGAZINE Vol.39 No.2 1997

Appendix
This car, D19, was imported to the U.S. by Jim Kimberly in November 1949. It was the first or second Healey Silverstone brought to this country . Sports car road racing was just beginning to take off here.
Jim had a number of people drive for him on tracks including Palm Beach, Watkins Gien, Elkhart Lake, and Bridge~ampton.
The best recorded race day for this Healey was after Jim sold the car to Jim Simpson, a pal of his from Lake Forest, lIIinois. On July 23,1953, at Elkhart Lake, Wisconsin, Fred Wackert drove the Healey to a second place in the feature race behind Jim Kimberly, in his new Ferrari. In addition, on that day the Healey was driven by Ted Boynton to a first place in the novice race, and Sally Ann Chapin won the ladies' race in D19.
After that, the car passed through a couple of hands and in the late 1960's was bought by Tony Carroll (Secretary of the Vintage Sports Car Club of America) who began racing in the VSCCA events. In 1972, I bought the car from Tony and continued the tradition of racing in VSCCA. The car has been restored to original condition.
This car is occasionally raced in vintage races, but used mostly for fun transportation.
and
May I introduce myself as the owner (since 1972) of Silverstone D-19. The car is very fast and very dependable. In four to five races per year I have finished well up in "class" each time since 1979 when the last rebuild was completed.
Also, the car has had a ground-up body restoration and I believe it to be one of the most complete and original Healeys in the U.S.
The car was imported in the fall of 1949 by Jim Kimberley and raced several times. Kimberly made one change: he cut the body in front of the scuttle and fastened it there with dzus pins. This allows one to remove the nose in 15-20 minutes and get at the motor with ease.
Kimberly sold the car to his friend Jim Simpson of Lake Forest, Illinois. Jim repainted the car yellow and raced it in SCCA races for several years. After his death (late 1950's?) his widow gave the car to his mechanic who died shortly thereafter. The car was found in 1966 or 1967 by Tony Carroll at a dea1er inWisconsin. The paint was a metallic green which Tony resprayed to a proper green. Tony raced the car in VSCCA until I bought it.
Our restoration took all the paint off and put it back to Kimberly red. The same detail was applied to reconstructing the interior.
Gazette May 1987, D19 is finally back and working. I have about 300 miles on the new engine. - The frontsection is now removable in twenty minutes.
Nat B. Day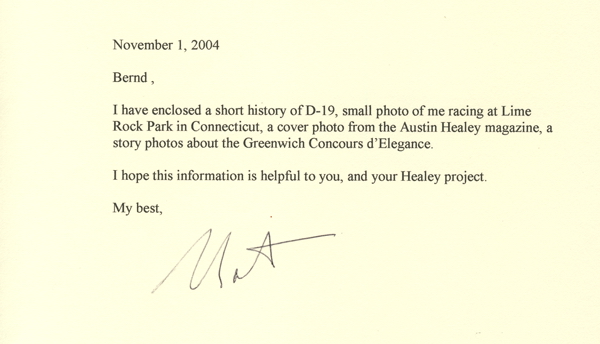 Link im Internet: Alumni Award 2010